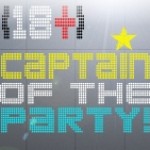 ---
Uploaded on Jan 18, 2012
416 Times Played
Vinai Kodram
3879 Followers
1348 Tracks
---
Hello and good evening!
This is your Captain of the Party.

This AWESOME playlist is for real PARTY PEOPLE only. UPDATES every week with new songs that make you wanna dance all night long. SUBSCRIBE and ENJOY! And I hope you'll have a good time with us.

Over and out from your Captain!