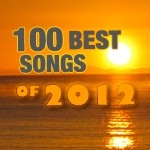 ---
Uploaded on Feb 17, 2012
936 Times Played
Michael Frash
305 Followers
469 Tracks
---
Playlist updated daily throughout 2012 until the top 100 songs remain at year's end. Until then it's a list of good new releases with the best tracks of the year so far at the top.

Focus on Indie, Electronic, Alternative, Includes Dance, Disco, Hip-Hop/Rap, House, Pop, R&B, Rock, Soul, Techno & World.

Only featuring tracks from 2012.