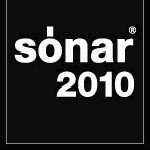 ---
Uploaded on May 04, 2010
893 Times Played
ListenSpotify
136 Followers
249 Tracks
---
Sonar, the advanced music and multimedia art festival, takes place in Barcelona every year during three days in June. Sonar's diverse artistic offer splits between the Sonar by Day activities and Sonar by Night, together with some simultaneous gigs like the performances at L'Auditori.


What's Sónar? Barcelona's International Festival of Advanced Music and Multimedia Art from Sónar on Vimeo.
The Chemical Brothers, Roxy Music, Air, LCD Soundsystem, Plastikman, Jónsi, Dizzee Rascal, 2manydjs, Booka Shade, Hot Chip, Fuck Buttons, Aeroplane, King Midas Sound, Broadcast, The Sugarhill Gang, Matthew Herbert's One Club, Flying Lotus, Pete Tong, Joy Orbison, Zomby, New Young Pony Club, Roska, Necro Deathmort, Ryoji Ikeda, Mary Anne Hobbs, David M, John Talabot, Bradien, Speech Debelle...
Unofficial playlist